Welcome to Water Leys' Mathematics page
We're excited to launch the Water Leys Times Table Challenge "To infinity and beyond!" Children have an opportunity to earn stickers to their collector card as they progress through their times tables and against the clock. There are 5 "stops" on the way to getting your name on the Moon Walker Hall of Fame.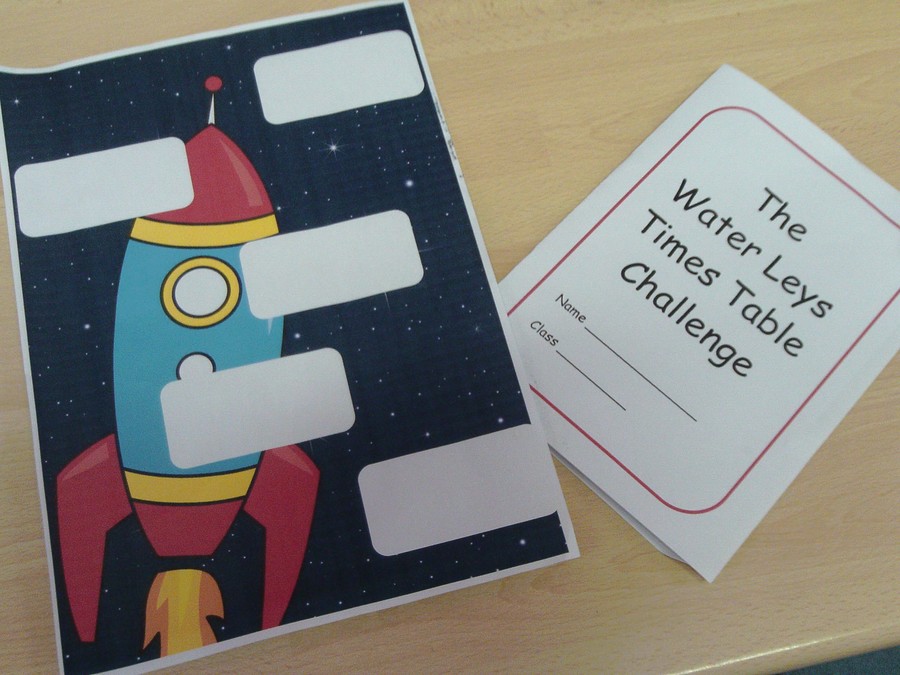 Space Academy x2, x5 and x10
Ground Control x2, x3, x4, x5 and x10
Lift Off! x2, x3, x4, x5, x6, x9, x10 and x11
Into Orbit x2, x3, x4, x5, x6, x7, x8, x9, x10 and x11
Moon Walker All times tables including square numbers
Here are some links
Learning times tables valuable and children can learn them in many different ways. The following websites contains fun ways of practicing tables using games and other activities.
www.mathsgames.org/times-tables.html
www.bbc.co.uk/schools/ks1bitesize/numeracy/multiplication/index.shtml
If you have a tablet or phone, have a look at the app or play store for times tables apps such as Squeebles times tables, Sakura quick maths and Tap Times Tables
Most of all enjoy!!!
A Guide to the Teaching of Calculation Strategies and Other Useful Resources
If you've ever been asked the question 'Can you help me with my maths homework?' and immediately been filled with dread, you are not alone.
On this page you will find explanations (with examples) of some of the strategies that your child uses in school in order to carry out addition, subtraction, multiplication and division calculations, and also a list of useful, maths-related games and activities that can be found online and some ideas for supporting maths further at home.
100 square
The 100 square is a visual tool to help children in a variety of ways:
Place Value: the 100 square clearly shows the pattern of where the tens rows are and where the units columns are.

+1/-1: using the 100 square to jump right/left one space to add/subtract 1.

+10/-10: Using the 100 square to jump up or down one space encourages mathematicians to stop adding/ subtracting in 10 single units.

+9: Jump down one space (+10), then left one space (-1) = easy strategy for adding 9;

+11: Jump down one space (+10), then right one space (+1) = easy strategy for adding 11;

-9: Jump up one space (-10), then left one space (+1) = -9

-11: Jump up one space (-10), then right one space (-1)= -11.

The variations are now endless: +20 (jump down 2 squares), -40 (jump up 4 squares), + 19
Games & Activities to Use at Home
There are a number of helpful props that will provide opportunities for talking about maths at home. This process alone helps enormously when it comes to understanding some of the concepts that are taught in school. These include...
A prominent clock

A traditional calendar

Board games involving dice or spinners

A pack of traditional playing cards

A calculator

Measuring jugs with scales

Dried beans, pasta shapes and Smarties – good for sharing and creating arrays

A tape measure or ruler

A bar of chocolate – great for discussing fractions!

Fridge magnet numbers, letters and symbols

Weighing scales

A dartboard

Dominoes

Guess Who? – perfect for dividing things into categories, or for thinking about probability

An indoor or outdoor thermometer
There are many websites which have fun maths games for your children to play. Mad 4 Maths is a good example. Click on the link below to play some games.
The following video clips will help to support you when you are helping your child with calculations.
Homework Advice
The most important thing that you can do as a parent is show an interest in your child's work. If you can, support them in completing it, but never worry about referring your child back to his/her teachers for help. We hope that the information contained within this page will support you in supporting them, but would discourage any parent from trying to 'muddle through' when a conversation with, or note to, the class teacher would be welcomed.
Always try to avoid conflict where homework is concerned; teaching staff will follow-up homework in school.
Helpful homework habits include...
working out the best time (not always the most immediate) to complete homework;

gathering all relevant equipment and materials before beginning;

finding a quiet, comfortable environment, away from distractions;

reading and following instructions carefully, checking anything confusing with an adult or the teacher;

presenting work as it is done in the classroom, avoiding any confusion over place value or strategies;

checking through carefully upon completion of work.